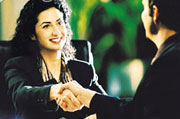 Life Search Technologies' relationships with all parties is based on total confidentiality and trust. The cornerstone of all of our relationships is the professional responsibility of our consultants to adhere to the highest level of integrity as a "trusted advisor".
Our commitment is to provide services in an accurate, straightforward and responsible manner. Life Search Technologies prides itself on maintaining the highest standards and values in performing an efficient and comprehensive service. We treat all communications, resumes, conversations and correspondence with the strictest confidentiality.
Our well established practice and expertly trained staff have proven themselves as advocates of the highest integrity in addressing the needs of our clients and candidates. Life Search Technologies is committed to winning and maintaining your confidence and trust.
This is our pledge to you!