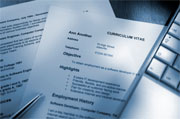 Your resume is your most important tool in your job search.
It should include the following information:
Contact information. Include home phone or cell phone, mail and e-mail contact information.
Career objective. Some candidates list an objective and some don't. If you do list one make sure your objective is clearly stated and defined.
Summary statement. Your summary should be brief.
First, include your title and years of experience.
Second, list all skills.
Third, discuss your character traits or work style and accomplishments.
Professional experience. List each position held in reverse chronological order, dating back at least ten years. If you held multiple positions within the same company, list them all to show advancement and growth. The body of each position description should describe your responsibilities and accomplishments
Other components. Include education, professional training, affiliations/appointments, licensing, certification, associations, publications, technical skills and languages.
Personal information. Do not include personal information such as marital status or age.
Accomplishments Employers Want To See:
Increased revenues, added value through your efforts
Cost saving, qualified/quantified items where you/your team saved money
Increased efficiencies and made an impact, new technology initiatives
Cut overhead cost through your efforts
Increased sales, improved profitability, expanded territory successfully
Improved workplace safety, rallied the team, improved the atmosphere
Purchasing accomplishments that hit the bottom line
New products/new lines/new business
Improved record keeping process
Increased productivity and performance (Completed project on time & under budget)
Successful advertising campaign
Effective budgeting and staff utilization (Did more with less!)